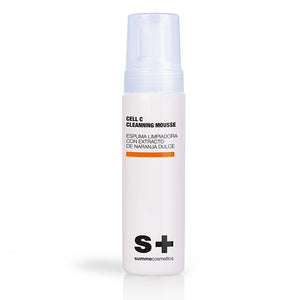 Summecosmetics Cell C Cleanning Mousse 200ml
CLEANSING MOUSSE WITH SWEET ORANGE EXTRACT
DESCRIPTION
Facial cleansing mousse that respects the skin's natural balance by preserving its optimal hydration levels. Its liquid consistency transforms into a fresh and light foam which gently eliminates impurities and excess oil accumulated on the skin's surface, as well as any traces of make-up, deeply cleansing the skin without causing irritation. Ideal for normal and combination skin.
ACTIONS
• Cleansing.
• Moisturising.
ACTIVE INGREDIENTS
CITRUSTEM™ (Citrus Aurantium Dulcis Callus Culture Extract): Stem cellsderived from Sweet Orange. Rich in Vitamin C and A. It provides a strong antioxidant effect, fighting the effects of free radicals. Its beta-carotene concentration promotes a more even stratum corneum.
COMPOSITION
AQUA, SODIUM LAURETH SULFATE, GLYCERIN, COCOYL METHYL GLUCAMIDE, CAPRYLOYL/CAPROYL METHYL GLUCAMIDE, CITRUS AURANTIUM DULCIS CALLUS CULTURE EXTRACT, CI 14720, BENZOPHENONE-4, SODIUM BENZOATE, METHYLCHLOROISOTHIAZOLINONE, METHYLISOTHIAZOLINONE, PARFUM.
BENEFITS
Clean and fresh skin, free from impurities.
ESPUMA LIMPIADORA HIDRATANTE CON NARANJA DULCE
Propiedades
Es un mousse limpiador para pieles secas y normales con extracto de naranjas dulces y aceite de Babassu. Limpia profundamente la piel manteniendo el nivel óptimo de hidratación y respetando el equilibrio natural de la piel dejando una sensación suave y sedosa.
Modo de uso: aplicar el limpiador con masaje suave y enjuagar con agua. 
Composición:
Extracto de naranjas dulces: La aplicación en cosmética del extracto de naranja dulce está justificada por su riqueza en vitaminas, en especial la C, la A, y los carotenos; los ácidos orgánicos, los más abundantes de ellos de naturaleza alfa-hidroxiácidos o alfa-cetoácidos; los flavonoides, de alto poder antioxidante, antirradicales y protectores de los capilares; aceite esencial, con potente acción desinfectante y calmante; los carbohidratos y pectinas le confieren propiedades hidratantes. Muy útil, asimismo, en los tratamientos de manchas hipercrómicas o en tratamientos despigmentantes.

Aceite de Babassu: Aceite obtenido del fruto de la palmera originaria de Brasil y que crece a orillas del rio Amazonas. Contiene un alto porcentaje de ácido oléico, lo que le proporciona excelentes propiedades hidratantes. El aceite de Babassu mantiene la hidratación de la piel dejando un sensación suave y sedosa en la misma.

Agente limpiador suave derivado del aceite de Babasu: De origen natural, este tensoactivo es capaz de limpiar la piel respetando el equilibrio natural de la misma.