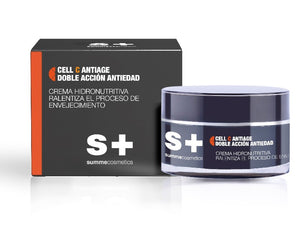 Summecosmetics Cell C Antiage 50ml
HYDRO-NOURISHING CREAM. DOUBLE ANTI-AGEING ACTION
DESCRIPTION
Hydro-nourishing anti-ageing treatment and prevention facial cream, formulated with Vitamin C, which slows down the ageing process and stimulates the cellular regeneration of skin tissue. It encourages the antioxidant effect and repairs harmful environmental effects, especially those caused by pollution and ultra-violet radiation. Gives brightness and an even skin tone for skin with uneven pigmentation. Specially suitable for normal or dry skin that shows or wants to prevent the early signs of ageing.
ACTIONS
• Anti-ageing.
• Deeply hydrating.
• Nourishing.
• Brightening.
ACTIVE INGREDIENTS
SWEET ORANGE EXTRACT (Citrus Aurantium Dulcis Callus Culture Extract): Rich in Vitamin C and A. It provides a strong antioxidant effect, fighting the effects of free radicals. Its beta-carotene concentration adds to the antioxidant effect, preventing premature ageing.
STABILISED VITAMIN C (Sodium Ascorbyl Phosphate): Stimulates collagen synthesis, improving the skin tone. Affect the synthesis of melanin, evening out and improving the skin colour.
ARGAN OIL (Argania Spinosa Kernel Oil): Its high oleic and linoleic acid content improves the skin's natural functions, preventing ageing, dryness and sensitivity of the skin.
JOJOBA OIL (Simmondsia Chinensis Seed Oil): It works in perfect tandem with Vitamin C because it adds to its antioxidant effect, emphasising its regenerative and photoprotective properties which are very important for skin that shows signs of pigmentation.
ORGANIC SILICON (Methylsilanol Mannuronate): It forms part of the skin's natural connective tissue structure. It acts as a cement, ensuring that all the elements, such as the glycosaminoglycans (GAGs) or proteoglycans, stay bonded to the extracellular matrix. It maintains the skin's mechanical properties, elasticity and firmness, preserving metabolic efficiency.
COMPOSITION
AQUA, CAPRYLIC/CAPRIC TRIGLYCERIDE, GLYCERIN, DICAPRYLYL ETHER, CITRUS AURANTIUM DULCIS CALLUS CULTURE EXTRACT, SIMMONDSIA CHINENSIS SEED OIL, CYCLOPENTASILOXANE, METHYLSILANOL MANNURONATE, CETYL ALCOHOL, GLYCERYL STEARATE, BUTYROSPERMUM PARKII BUTTER, ARGANIA SPINOSA KERNEL OIL, SODIUM ASCORBYL PHOSPHATE, HELIANTHUS ANNUUS SEED WAX, LINOLEIC ACID, LACTIC ACID, ACACIA DECURRENS FLOWER WAX, GLYCINE SOJA SEED EXTRACT, PEG-75 STERATE, CETETH-20, STEARETH-20, JOJOBA ESTERS, SODIUM CITRATE, TOCOPHERYL ACETATE, TETRASODIUM GLUTAMATE DIACETATE, CARBOMER, POLYGLYCERIN-3, PHENOXYETHANOL, ETHYLHEXYLGLYCERIN, PARFUM.
BENEFITS
Radiant skin, ready to combat external aggressions
CREMA HIDRONUTRIENTE.

 

DOBLE ACCIÓN ANTIEDAD
Propiedades
Tratamiento antiedad que ralentiza el proceso de envejecimiento y estimula la regeneración celular del tejido cutáneo. Repara el cutis de los efectos nocivos del medio ambiente, especialmente los debidos a la contaminación y la radiación ultravioleta. Las células madre favorecen el correcto metabolismo de los tejidos y los conserva en buen estado. Combinado con el efecto antioxidante de la vitamina c, favorecen la capacidad regenerativa natural de la piel, evitando eficazmente la aparición de arrugas, flacidez, imperfecciones, manchas, etc. Enriquecida con aceite de Argan y de Jojoba, que por su alto contenido de vitamina E y ceramidas (lípidos fundamentales de la piel) nutre e hidrata la piel en profundidad.
Modo de uso: Aplicar con suave masaje mañana y noche; luego de el serum. 
Composición:
Células madre vegetales: Favorecen el correcto funcionamiento de los tejidos y los conserva en buen estado, favorecen la capacidad regenerativa natural de la piel, evitando eficazmente la aparición de arrugas, flacidez, imperfeccíones, manchas, etc.
Vitamina C: Ilumina y tonifica el tono de la piel.
Aceite de Argán: El aceite de Argán es muy rico en ácidos grasos esenciales y vitamina E, por lo tanto aporta a la piel hidratación y nutrición.
Aceite de Jojoba: Su alto contenido en ceramidas (lípidos fundamentales de la piel) actúa hidratando las pieles secas y evitando la acumulación de sebo.
Lupinus Albus: El estracto de la vainas de las semillas de lupinus albus es rico en lupenol, este principio activo actúa asegurando la correcta biosíntesis del colágeno tipo l, proporcionando de este modo firmeza y elasticidad a la dermis.