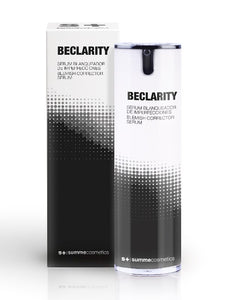 Summecosmetics Blemish Corrector Serum 30ml
DESCRIPTION
Depigmenting face serum that acts deeply on the different causes of hyperpigmentation. Corrects melanin production, reducing the appearance of spots and dark patches, as well as providing uniformity and radiance. Ideal for evening the irregular tone of the epidermis, regardless of cause.
ACTIONS
• Lightening.
• Depigmenting.
• Antioxidant.
• Brightening.
ACTIVE INGREDIENTS
NIACINAMIDE (Niacinamide): Evens the skin tone, removing the yellowish tones caused by oxidative metabolic processes. Highly antioxidant.
ARBUTIN (Arbutin): Bearberry leaf extract. Lightening and depigmenting effect on melasma and sun damage. Regulates the melanogenesis process.
CHROMABRIGHT® (Dimethylmethoxy Chromanyl Palmitate): Advanced depigmenting active ingredient that regulates the skin pigmentation process by inhibiting tyrosinase activity without affecting melanocyte growth, preventing photoageing.
AXOLIGHT® (Hydrolyzed Wheat Flour): Active ingredient rich in Arabinoxylo-Oligosaccharides with skin-brightening properties. Inhibits melanogenesis, thus preventing excess skin colouring caused by UV rays.
COMPOSITION
AQUA, PROPYLENE GLYCOL, GLYCERIN, DIMETHICONE, BUTYLENE GLYCOL, CAPRYLIC/CAPRIC TRIGLYCERIDE, NIACINAMIDE, BETAINE, HYDROLYZED WHEAT FLOUR, JOJOBA ESTERS, ARBUTIN, PANTHENOL, ALLANTOIN, PLANKTON EXTRACT, DIMETHICONE, POLYGLYCERYL-6 DISTEARATE, GLYCERYL STEARATE, TOCOPHERYL ACETATE, CETYL STEARYL ALCOHOL, CARBOMER, POLYGLYCERYL-3 BEESWAX, CETYL ALCOHOL, DISODIUM DIHYDROGEN ETHYLENEDIAMINETETRAACETATE, DIMETHYLMETHOXY CHROMANYL PALMITATE, XANTHAN GUM, PROPYL GALLATE, CITRIC ACID, TOCOPHEROL, PHENOXYETHANOL, PARFUM, ETHYLHEXYLGLYCERIN.
BENEFITS
Even, luminous skin, that is free from dark spots
SERUM BLANQUEADOR DE IMPERFECCIONES
DESCRIPCIÓN

Sérum facial despigmentante que actúa en profundidad sobre las diferentes causas de la hiperpigmentación. Corrige la producción de melanina, reduciendo la aparición de manchas y manchas oscuras, además de aportar uniformidad y luminosidad. Ideal para igualar el tono irregular de la epidermis, independientemente de la causa.
COMPORTAMIENTO
• Aligeramiento.
• Despigmentante.
• Antioxidante.
• Iluminador.
INGREDIENTES ACTIVOS
NIACINAMIDA ( Niacinamida ): Unifica el tono de la piel, eliminando los tonos amarillentos provocados por procesos metabólicos oxidativos. Altamente antioxidante.
ARBUTINA ( Arbutina ): Extracto de hoja de gayuba. Efecto aclarante y despigmentante sobre el melasma y el daño solar. Regula el proceso de melanogénesis.
CHROMABRIGHT® ( Dimetilmetoxi Cromanil Palmitato ): Activo despigmentante avanzado que regula el proceso de pigmentación de la piel inhibiendo la actividad de la tirosinasa sin afectar el crecimiento de los melanocitos, previniendo el fotoenvejecimiento.
AXOLIGHT® ( Harina de Trigo Hidrolizada ): Principio activo rico en Arabinoxilo-Oligosacáridos con propiedades iluminadoras de la piel. Inhibe la melanogénesis, evitando así el exceso de coloración de la piel provocado por los rayos UV.
COMPOSICIÓN
AQUA, PROPILENGLICOL, GLICERINA, DIMETICONA, BUTILENGLICOL, CAPRILICO / TRIGLICÉRIDO CAPRIC, NIACINAMIDA, BETAÍNA, HARINA DE TRIGO HIDROLIZADA, ESTERES DE JOJOBA, ARBUTINA, PANTENOL, DILATONATLACTIVA, ESTEROS DE JOJOBA. ALCOHOL CETIL ESTERILICO, CARBOMERO, CERA DE ABEJAS POLIGLICERIL-3, ALCOHOL CETILO, ETILENEDIAMINETRAACETATO DIHIDRÓGENO DISODIO, DIMETILMETOXI, PALMITATO DE CROMANILO DIMETILMETOXI, GOMA ALCOHÓLICO DE FANFÓXICO.
BENEFICIOS
Piel uniforme, luminosa, libre de manchas oscuras
Propiedades
Serum facial despigmentante que actúa en profundidad sobre las distintas causas de la hiperpigmentación. Corrige la producción de melanina, reduciendo la aparición de las manchas y zonas oscuras.
Modo de uso: Aplicar sobre el rostro con suave masaje mañana y noche ; luego de limpiar bien el rostro con el limpiador aclarante. 
Composición:
 Nicotinamida: Unifica el tono de la piel, eliminando las tonalidades amarillentas producidas por procesos de oxidación. Actividad antioxidante. 
Vitamina C: Es un agente antioxidante que estimula la producción de colágeno y la regeneración de la piel. Combinado con Vitamina E tiene una acción despigmentante, ideal para combatir las manchas.
 Vitamina E: Regeneradora y antioxidante. Además la Vitamina E tiene una acción protectora ante los excesos solares.
 Combinado de AHA's: Acción hidratante, exfoliante y regeneradora.