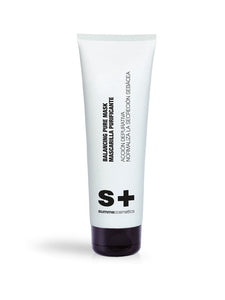 Summecosmetics Balancing Pure Mask 250ml
FACIAL PURIFYING MASK
DESCRIPTION
Facial treatment mask. Its depurative and purifying effects sanitise and decongest combination and/or oily acne-prone skin, restoring the natural balance of these skin types. Normalises sebaceous secretion.
ACTIONS
• Depurative.
• Purifying.
• Decongesting.
• Balancing.
ACTIVE INGREDIENTS
WHITE CLAY (Kaolin): Has great absorbency due to its high concentration of silicon and mineral salts. Its sebum-regulating and exfoliating effects help to eliminate skin impurities in order to maintain a healthy appearance.
MIMOSA WAX (Acacia Decurrens Flowers Wax): Floral extract with a characteristic scent, it offers emulsifying and moistening properties which promote surface hydration. A natural silicone substitute.
SUNFLOWER OIL (Helianthus Annuus Seed Wax): Rich in fatty acids and Vitamin E, it nourishes the skin and soothes irritations. Its antioxidant properties preserve optimal cellular function.
COMPOSITION
AQUA, KAOLIN, GLICERINA, CAPRILICO / TRIGLICERIDO CAPRIC, PARAFINUM LIQUIDUM, DIÓXIDO DE TITANIO, CETIL ALCOHOL, ESTERATO DE GLICERILO, ESTERES DE JOJOBA, PROPANEDIOL, HELIANTHUS ANNUUS LIQUIDO DE SEMILLAS, EXTRAFÁCIL DE LIQUIDO, LÍQUIDO DE SEMILLAS DE CÉTOLO, MALAFINA DE SEMILLAS. , PALMITATO DE RETINILO, ESTEARATO DE PEG-75, CETETH-20, ESTEARETH-20, DENAT DE ALCOHOL, ACETATO DE TOCOFERILO, GALATO DE PROPILO, DIACETATO DE GLUTAMATO DE TETRASODIO, GOMA XANTÁN, CARBOMERO, POLIGLICOHIDERINA-3.
BENEFITS
Purified, hydrated, fresh and evenly toned skin
MASCARILLA FACIAL PURIFICANTE Y EQUILIBRANTE
Propiedades

Mascarilla purificante con acción antimicrobiana y antiinflamatoria. Su fórmula con tea tree oil encapsulado en ciclodextrinas, reestablece el equilibrio natural de la piel grasa. Actúa sobre los principales signos de las pieles grasas y con tendencia acnéica. Piel fresca satinada, sin brillos y libre de poros y puntos negros.
Modo de uso: Aplicar 2 veces por semana para controlar el exceso de grasa.
Composición:
Aceite de árbol de té encapsulado en ciclodextrinas: El aceite de árbol de té encapsulado en ciclodextrinas que lo protegen de la oxidación, permite reestablecer el equilibrio natural de la piel y el nivel de hidratación óptimo perdido por agresiones externas, dando como resultado una piel fresca, satinada y sin brillos. Gracias a la actividad antimicrobiana y antiinflamatoria del aceite del té cuya biodisponibilidad por la piel se mejora gracias a su encapsulación en ciclodextrinas, permite una liberación controlada del aceite al mismo tiempo que regula el sebo.

Arcilla blanca: Purificante.